Peace
in the Pages
Held annually every fall near Mahatma Gandhi's birthday, READ USA hosts a celebration of literacy and champions for literacy in our community. The purpose of the connection to Gandhi, who was a peaceful pioneer of freedom, is to promote the link between literacy and the values of empathy, peace, non-violence, health, education, freedom, leadership, and success.

READ USA presents seven local leaders with awards during the event, recognizing their commitment to literacy and closing the literacy gap in Duval County. The event is emceed by a local community leader every year and features inspirational teen and student testimonials of overcoming barriers and challenges through strength, perseverance, and pure personal dedication. Attending Peace in the Pages is our community's opportunity to be inspired and motivated to solve illiteracy!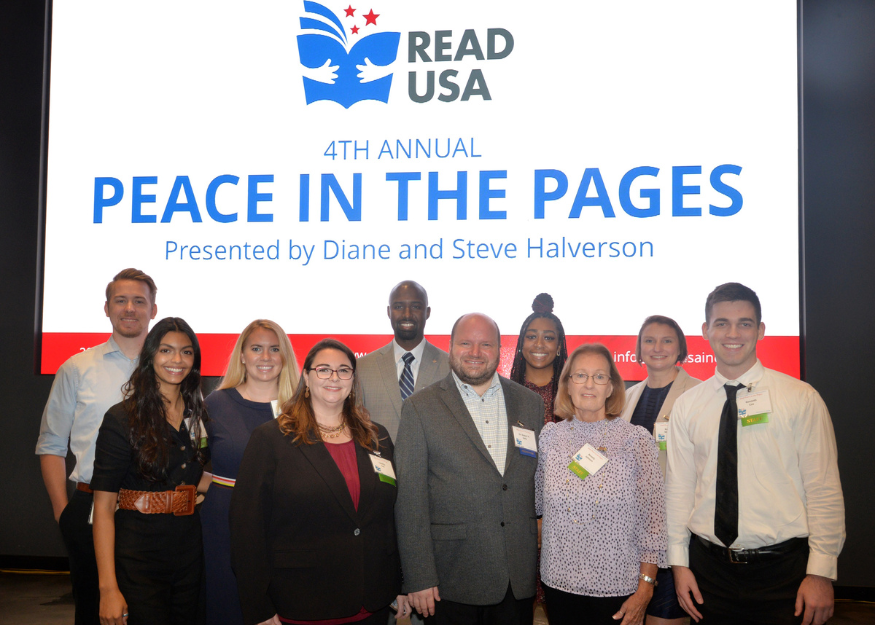 As Peace in the Pages is generously underwritten by our presenting sponsor every year, all sponsorships and contributions go 100% to READ USA's research-based, multi-layered programming that is solving the literacy crisis in our country through high-quality teaching and high-interest books.
Attendance to Peace in the Pages is currently reserved for our generous donors who support READ USA at $1,000 a year or more.
Become a Sponsor
2023 Peace in the Pages

Thursday, September 28
11:00 a.m. to 1 p.m.
TIAA Bank Field, Gallagher East Club
READ USA is immensely grateful for David and Monique Miller who have generously served as our 2023 Presenting Sponsors for Peace in the Pages. Their passion and unwavering support for education and literacy in our community enables READ USA to host the 2023 Peace in the Pages event.
Presenting Sponsors:
David & Monique Miller
David and Monique Miller are passionate about bringing people together to address the complex issue of improving educational outcomes. They have been tremendous supporters, financially and otherwise, of READ USA and countless other organizations in our community who READ USA is proud to work alongside. To have their support of READ USA and Peace in the Pages is a testament to the phenomenal work our team does in the community.
Hear directly from David and Monique about why they support READ USA and literacy in our community.
Congratulations to our 2023 Peace in the Pages
Award Winners!
READ USA is honored to recognize the immense contributions of the following individuals to literacy, education, and pursuing equal access to opportunity for everyone in our community:
Keynote Speaker:
Shelley Read
International bestselling author
Shelley Read
– who recently published her first, internationally acclaimed novel,
Go as a River -
will be our keynote speaker!
Ms. Read has graciously committed to joining us at Peace in the Pages to share her inspirational journey as an educator, author, and adventurer.
She has been an award-winning lecturer and educator for three decades at Western Colorado University where she taught writing, literature, environmental studies, and Honors. She was a founder of the interdisciplinary Environment & Sustainability major and the Prague study abroad program, and she founded a support program for first-generation and at-risk college students to help them stay and succeed in a collegiate environment.
Ms. Read's focus on youth, education, and sustainability makes her a perfect fit for our annual Peace in the Pages event where we celebrate local champions of literacy and promote the link between literacy and the values of empathy, peace, health, education, and freedom!
Fun Fact: "Go as a river" is also a phrase rooted in Buddhist origins and refers to the ever-changing flow of life, which also speaks to the essence of Ms. Read's novel. Mahatma Gandhi, our inspiration behind Peace in the Pages, was deeply influenced by Buddha's teachings in his quest for peace and freedom.
Ms. Read will be signing books at Peace in the Pages, and
READ USA has a special surprise in store for attendees!
Emcee: Melanie Lawson, The Morning Show Anchor, News4Jax
Melanie has been a tremendous supporter of READ USA and our community-wide effort to close the literacy gap in Duval County, and we are grateful for the energy, enthusiasm, and passionate voice for literacy that she radiates. We are so thankful for Melanie's uplifting presence and leadership during the event this year!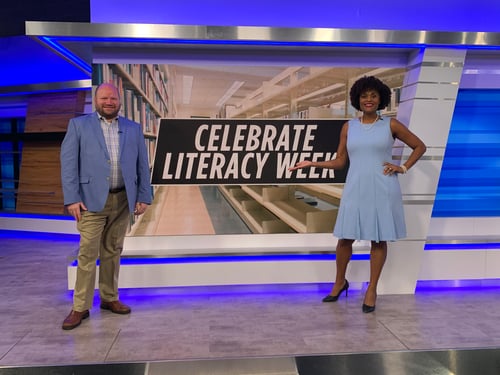 Read more about Melanie here.
Our Host Committee:
Co-Chairs Ashley Szczukowski and Laura Phillips Edgecombe
Both Ashley and Laura have been steadfast supporters of READ USA for several years, and anyone who knows them, knows their dynamism is unmatched! READ USA is thankful for their support in leading the efforts of our esteemed host committee members.
Read more about Ashley and Laura here.