Peace In The Pages
Mark Landen Memorial Award for Democracy through Journalism Honoree: Mark Woods, Florida Times-Union
Read USA Inc.
September 13 2023
READ USA is honored to feature our 2023 Peace in the Pages Mark Landen Memorial Award for Democracy through Journalism Honoree, Columnist Mark Woods from the Florida Times-Union!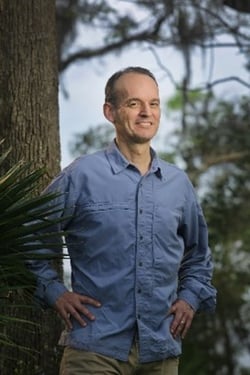 Mr. Woods has been the Metro columnist for two decades, writing about slices of life, news of the city, our natural resources, our challenges and triumphs, always with words that are honest, insightful, and heartfelt.
An award-winning journalist, Mr. Woods is also a published author. As a result of earning the 2011 Eugene C. Pullman Fellowship – awarded to only one writer in America – from the Society of Professional Journalists, Mr. Woods journeyed through America's National Parks from "sunrise in Maine to sunset in Hawaii," and wrote his book Lassoing the Sun (Thomas Dunne Books, June 2016).
Books were integral in Mr. Woods' upbringing. "Being read to was something that was part of my childhood," he says, and a trip to the library in town was considered a family outing. During their summer family trips in national parks, he remembers his mother "zipping through several books while on the road," and his father would read A Christmas Carol to the family at the dinner table annually. "Dad once announced that he would read all the works of Shakespeare that year," he added.
Regarding READ USA's literacy-focused programming, "I'm glad that READ USA is doing the work they're doing," he says. "Literacy has a profound lasting impact," he said, in addition to expressing how honored and humbled he is to receive the Mark Landen Memorial Award for Democracy through Journalism.
Read more about Mr. Woods here.
You can also read more about our 2023 Peace in the Pages event, presented by David & Monique Miller, which will take place in two weeks on Sept. 28 from 11 a.m. to 1 p.m. at TIAA Bank Field, here.
It's not too late to donate and attend! Donors who support READ USA at $1,000 a year or more receive several benefits, including seats at Peace in the Pages. You can become a READ USA donor today by clicking here.
WATCH: Ms. Betty Seabrook Burney Address, "Leveling Up."
"That's what we're looking for: next level. Leveling up! READ USA has the formula of taking young people to help other young people, but with the content of literacy."

Ms. Betty Seabrook Burney, founder and executive director of the I'm a Star Foundation, recently shared her thoughts with READ USA about the valuable role that books play in helping students "become global." Ms. Burney, who has served on the Duval County Public Schools Board, has dedicated not only her career but also her personal time to education and uplifting students.
WATCH her one-minute video clip where she discusses how literacy helps students go from "where they are, to where they can be."
Ms. Burney is our 2023 Peace in the Pages READ to Lead Award Honoree, and she will share more during our event in just two weeks!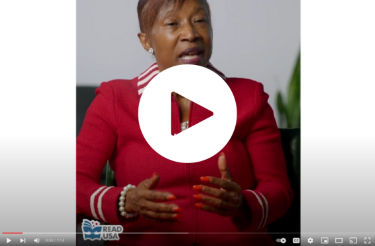 ---
Our Message for September's Deaf Awareness Month
September is Deaf Awareness Month, a time when America recognizes and honors the unique challenges, needs, and culture of the deaf and hard-of-hearing community.
Our CEO Dr. Rob Kelly, who is fluent in American Sign Language (ASL), has a message about how READ USA sees and celebrates people who are deaf or hard-of-hearing: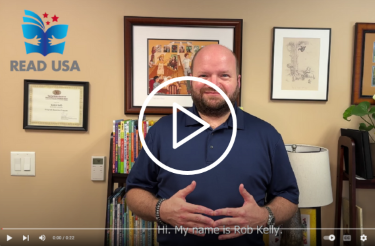 Want to learn more about how you can support or engage with this exceptional community of people? The University of Florida's Florida and Virgin Islands (FAVI) Deaf-Blind Collaborative has free literacy resources for the deaf and blind community, as well as ASL resources, here.
---
READ USA Hosts 2nd Fall Tutor Training Session
This past weekend, more than 100 teen tutors with READ USA came together at the Schultz Center to participate in the two-day training session to prepare them for the Fall Literacy Tutoring semester.
Combined with the 50+ tutors who were trained two weeks ago, that's more than 150 teen tutors hitting the ground running in elementary schools across Duval County!
READ USA's Literacy Tutoring training is intensive: teen tutors learn everything from reading and phonics lesson structure and implementation, to best instructional practices, to how to sustain student focus and engagement.
However, training doesn't stop at literacy! READ USA's peer-to-peer tutoring model also cultivates social-emotional skills in elementary students and teen tutors, promoting mental and emotional wellness, safety, and inclusion. Tutors also receive workforce development training such as career exploration, financial and digital literacy, and professional conduct. Our goal is to improve the literacy skills of elementary students AND set our teen tutors up for future career and life success!
Thank you to our partner City Year Jacksonville for providing information about additional opportunities for tutors after they have served as a READ USA tutor, and to our funding partners, Kids Hope Alliance, Accelerate, and United Way of Northeast Florida.
Learn more about Literacy Tutoring here.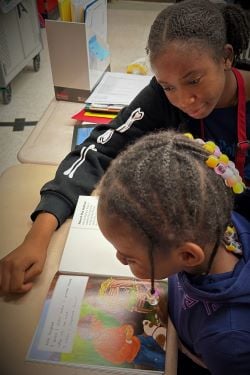 ---
Literacy Locker Room at John Love Early Learning Center
Our Literacy Locker Rooms are ramping back up!
Thanks to the support of and our partnership with the Jacksonville Jaguars Foundation, nearly 100 three- and four-year-olds at John Love Early Learning Center received 5 free books yesterday to take home with them!
Plus, Jacksonville Jaguars players #57 Caleb Johnson and #34 Gregory Junior, members of the Jacksonville Roar, and of course, Jaxson de Ville himself, also read to the students in attendance. Literacy Locker Rooms give students a fun-filled break in their school day while celebrating books, reading, and all-things-literacy with some fantastic role models in our community.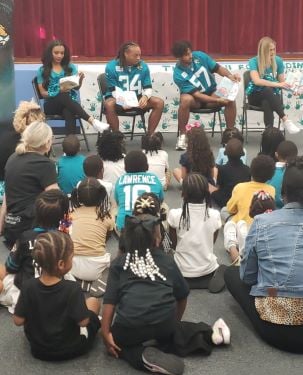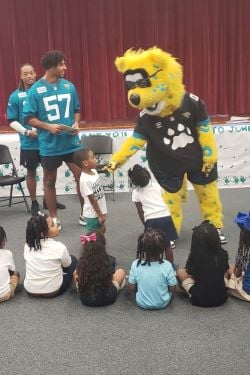 READ USA is incredibly grateful for the support of the Jacksonville Jaguars Foundation in making the Literacy Locker Rooms possible, and to Jaguars Foundation Community Impact and Programs Manager Michael Carnahan for attending.
Check out some of the photos from yesterday's event, which was generously sponsored by Gallagher.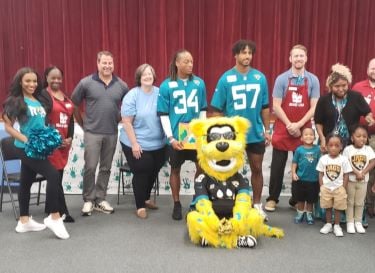 ---
VISTA: Volunteers in Service to America
READ USA still has a few open VISTA service positions and it's not too late to apply!
Through the AmeriCorps VISTA program, members receive a living allowance, an education award, professional development training and support, and healthcare benefits by serving in a one-year support role.
READ USA has several opportunities help us grow and improve the lives of even more children and teens in our community:
Interested to learn more? Visit the Apply section of our website: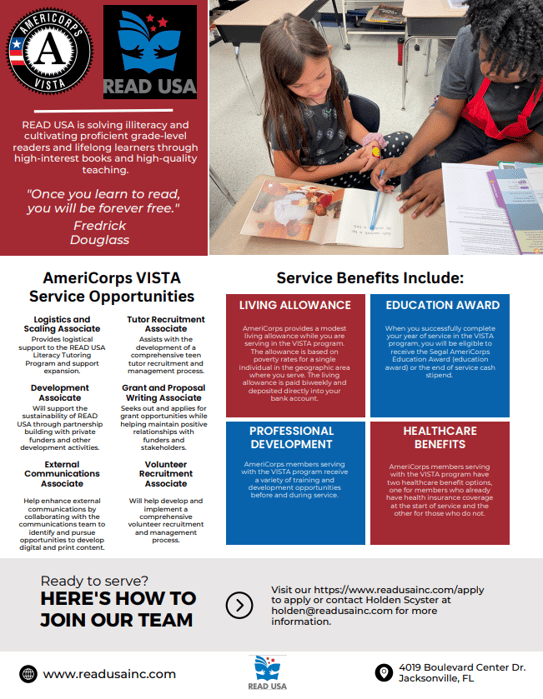 ---
Children's Book: The Giving Tree, by Shel Silverstein
Written and illustrated by Shel Silverstein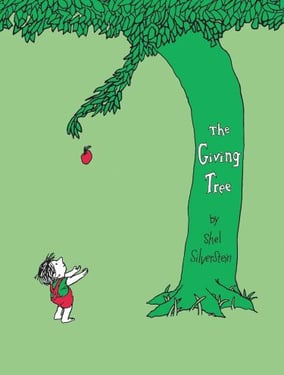 The Giving Tree is the story of a young boy who at an early age formed a relationship with a tree. The story is ambiguous in the sense that multiple meanings can be associated with the text. The tree is symbolic of mother nature and the boy is symbolic of humanity and how humans are destroying the environment. The Giving Tree loves the boy so much and never denies the boy anything that he requests. What is interesting about the relationship between the tree and the boy is the boy never said thank you to the tree for anything that the tree granted him.
This story is also about self-sacrifice. The tree loved the boy so much that it gave up its apples, branches, and trunk so the boy could be happy. As the boy grew older, the tree felt sad because it had given the boy everything and had nothing else to give. So, what is the true lesson here? Is it better to give than receive? Or should giving be reciprocated? Maybe, you can decide after reading this poignant story.
In this parable the tree was happy because it was able to make the boy happy. Another lesson to consider might be when we freely give to someone we care about, the reward is in the gift of giving.
Submitted by Dr. Barbara Lacey-Allen, Book Programs & Family Engagement Director
---
Parent Education Corner: How to Grow a Reader – Start Them Early
As parents we are bombarded with messages about the importance of reading and for good reason. The benefits of reading at every stage of a child's development are well supported. Happily, raising a reader is fun, rewarding, and easy.
Here are some suggestions for reading to a newborn:
Reacquaint yourself with reading – Make space and time for books you read yourself and books you read with your child. If you want to raise a reader, be a reader.

Read out loud, every day – You can read anything to a newborn: a cookbook, a parenting book, a novel. The content doesn't matter. What matters is the sound of your voice, the cadence of the text and the words themselves. Research shows that the number of words an infant is exposed to has a direct impact on language development and literacy. The catch is: The language must be live, in-person, and directed at the child (TV and audio books don't count).

Use their senses – Babies who are read to are learning that reading is fun and can involve their senses: the feel of the pages, the visuals of the illustrations, the sound of the parent's voice. Texturized books are especially good for your child's tactile experience.

Get your baby talking – Babies may start making sounds in response to your reading. This is why many books for this age contain nonsense words or animal sounds. If your child makes a sound, "baa, baa or la, la" respond. It may make no sense to you, but your baby is communicating.

Enjoy yourself!
From: How to Raise a Reader "nytimes.com/guides/books/how-to-raise-a-reader"
By Pamela Paul and Maria Russo
Submitted by Kathi Hart, Content Specialist
Do you have any questions or ideas for the Parent Education Corner? Anything you'd like to learn? Let us know here!