Literacy Tutoring
READ USA and Celebrate Literacy Week, Florida!
Read USA Inc.
January 19 2023
Next week – January 23-27 – is Celebrate Literacy Week, Florida! While READ USA celebrates literacy, books, and reading every day, we are particularly excited to be joining students, parents, and educators in uplifting literacy during this special week and further engaging young minds in reading.
Created by the Florida Dept. of Education, part of the purpose behind Celebrate Literacy Week, Florida! is to inspire Florida's students and families to make reading part of their daily routines. At READ USA, this is something we seek to inspire daily!
We have a couple events in the works that we look forward to sharing with you (be sure to follow us on social media!), but in the meantime, here are some resources for parents to motivate and inspire their children to read:
Online Read Alouds
READ USA has a large selection of children's books that are read aloud by diverse community leaders and volunteers on our website. Last month, we expanded the collection with a new read aloud series in partnership with the Cummer Museum of Art & Gardens and the Beaches Rotaract, which take place at the Cummer. As part of READ USA's Multicultural Literacy Project, the read alouds are highly diverse, featuring a variety of characters from different backgrounds, to ensure that all children can see themselves in the stories that are shared.
Read Alouds are an easy, fun, and different way to engage young readers in books! Check them out here.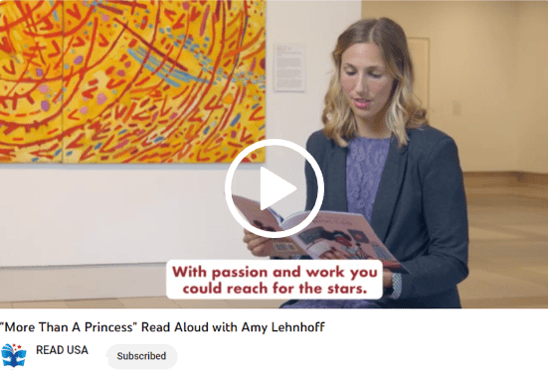 Parent Resource Videos
READ USA has a series of online video resources for parents to encourage their children to read. Curious about how to talk to you kids about books? Or how you can choose books for your child? Or how to answer tough questions about books? We have answers!
Check out these videos: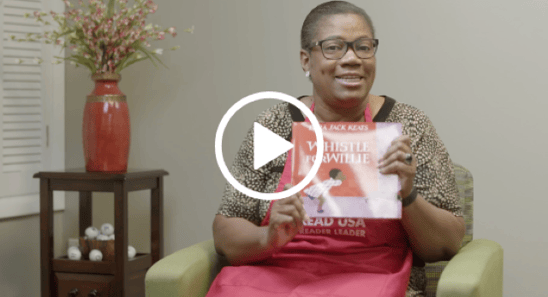 The Importance of Book Choice & Ownership
Did you know that research shows that the number of books in a home directly correlates to a child's literacy skills? This is why Book Choice & Ownership is an essential component of READ USA's mission and work: getting books that children want to read into their hands and homes!
Per our CEO Dr. Rob Kelly: If children get to choose what they want to read, then they actually WANT to read! It really is that simple.
To help fuel the desire for reading, Celebrate Literacy Week next week is the perfect opportunity to:
Take your child book shopping!

Many local bookstores have beautiful children's sections with a plethora of diverse books for children to select. Let your child peruse and choose the book that speaks to them the most. Encourage them to ask questions, explore titles, and go home with books that match their unique interests!

Visit the

Jacksonville Public Library

!

With 21 locations across Duval County, our local library system is a fantastic FREE resource. Whether you visit a branch and spend time with you children perusing the children's sections for whatever interests them most, or if you check out a book online, there are several free options at your fingertips. Plus, the

Library Academy Newsletter

provides monthly tips and at-home activities that you can do to "keep kids learning with the library!"
How will you be celebrating literacy at home next week? Tell us on social media! Links are at the bottom of this newsletter.
---
"Touchdowns for Tomorrow" at Parkwood Heights Elementary School
As part of its "Touchdowns for Tomorrow" program, TIAA Bank in partnership with the Jacksonville Jaguars Foundation donates 100 free books for every touchdown the Jaguars score this season. And with the Jags' current winning streak, that means even MORE books will be donated to local elementary school children! It's truly a win-win!
Earlier today, the READ USA team joined TIAA Bank and the Jaguars for a "Touchdowns for Tomorrow" book distribution event at Parkwood Heights Elementary School in Arlington. Each child went home with a free book – and you could see the excitement on the kids' faces! Check out some of the pics below.
Thank you to TIAA Bank and the Jacksonville Jaguars Foundation for your continued support of READ USA and closing the literacy gap in Duval County! It is partners like you that help make our mission and work possible.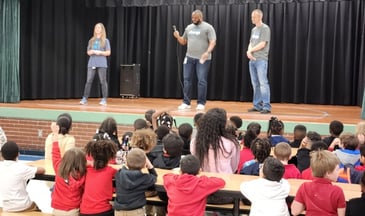 ---
READ USA Participates in MLK Day Breakfast
Last week, the READ USA team had the privilege and honor to attend the City of Jacksonville's 36th annual Martin Luther King, Jr. Breakfast on Friday. Presented by Florida Blue and hosted by Dawn Lopez from Action News Jax and Anthony Austin from First Coast News, the event was an inspiration to all who attended!
Thank you to the City of Jacksonville and all the sponsors who make this memorable event possible every year. And a special shout-out to VyStar Credit Union – a long-time supporter of READ USA – for presenting the 2023 Tomorrow's Leaders awards, which recognize students in our community who exemplify the philosophies of Dr. King through leadership, community volunteerism, and civic responsibility.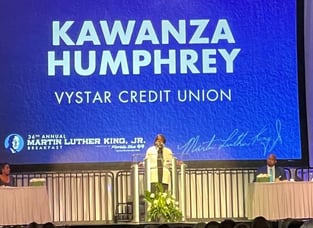 READ USA Board Member Kawanza Humphrey, Chief Human Resources Officer for VyStar, presented the 2023 Tomorrow's Leaders awards, and we are very grateful for Kawanza's and VyStar's unwavering support of the youth in our community. These young students are truly an inspiration for us all!
---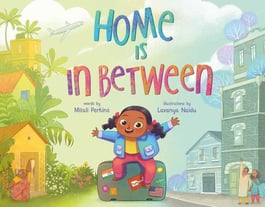 A story of change and realization, this book provides familiar content to children all over the United States. Shandi and her family just immigrated to the U.S. from the warm monsoon rains of India. At first, the cold rain of America was scary and new, but as Ma made home feel familiar with "funny stories in Bangla, no shoes, and Baba's big laugh," Shanti started warming up. But outside of home, the sights, smells, manners, words, and food were vastly different. Still, Shanti tried to learn the town with all its "newness." In between and back and forth, she learned new things and returned home to remember her village and culture. When Indian holidays came, the family watched through the computer as uncles, aunts, and cousins celebrated. Shanti felt far away. With her parent sticking to their culture at home, and the outside world expecting Shanti to assimilate, soon, the "in between" proved exhausting. As she took time to rest and think of the important things, she realized that Home is in Between. Shanti can love and continue the familiar cultural customs, while learning and valuing the American customs she is exposed to every day. A finalist for 2023 Florida Children's Book Award, this story is sure to teach the warmth of connection and home.
Submitted by Tabetha Cox, Tutoring Program Director
Parent Education Corner: Early Reading and Conversations
One of the most important things you can do as parents, is to play with your children, talk with them about the everyday routines in your family, and share time together.
It doesn't matter if you are at home with a baby, toddler, or preschooler, the time you spend together is one of the strongest contributors to children's overall development:
A research study through MIT (Massachusetts Institute of Technology) suggest that parents can have considerable influence over their children's language and brain development by simply engaging them in conversation, the researchers say.
"The important thing is not just to talk to your child, but to talk with your child. It's not just about dumping language into your child's brain, but to actually carry on a conversation with them," says Rachel Romeo, a graduate student at Harvard and MIT and the lead author of the paper, which appears in the Feb. 14 online edition of Psychological Science. (Tafton, 2018)
To extend this idea, having conversations about books is a great start to begin this structure of daily discussions. Here are some ideas about what that conversation can look like in your home.
Reading rockets suggests the strategy of CROWD.
CROWD is used to remember the types of questions to ask: completion, recall, open-ended, "wh" questions, and distancing. Here is an example of CROWD questions for the well-known story, The Three Little Pigs.
Completion question: "I'll huff, and I'll puff, and I'll __________ ___________ _________ ___________."
Answer: Blow your house down.
Recall question: Which house couldn't the Big Bad Wolf blow down?
Answer: The one made of bricks.
Open-ended question: Why do you think the first pig built his house out of straw?
Answer: It was the easiest to build. He was lazy.
"Wh" question: What kind of animal was after the pigs?
Answer: Wolf.
Distancing: How do you think the pigs felt when the wolf tried to get them?
Answer: (Answers will vary.) Scared, angry, sad.
Home question: If you had to build a playhouse at home, what kind would you build?
Answer: (Answers will vary.) Tree house, tent, fort.
School question: The wolf was a bully. He was mean to the three little pigs. What should you do if someone is bullying you at school?
Answer: (Answers will vary.) Tell a teacher. Tell them to stop. Ignore them.
Submitted by Tabetha Cox, Tutoring Program Director
Have ideas for the Parent Education Corner? We want your input on what you'd like to see in future editions. Complete the survey here to share your thoughts with us!